It's a great time of the year to be a green beauty in NYC! Here are some exciting events in New York City that you won't want to miss out on this month: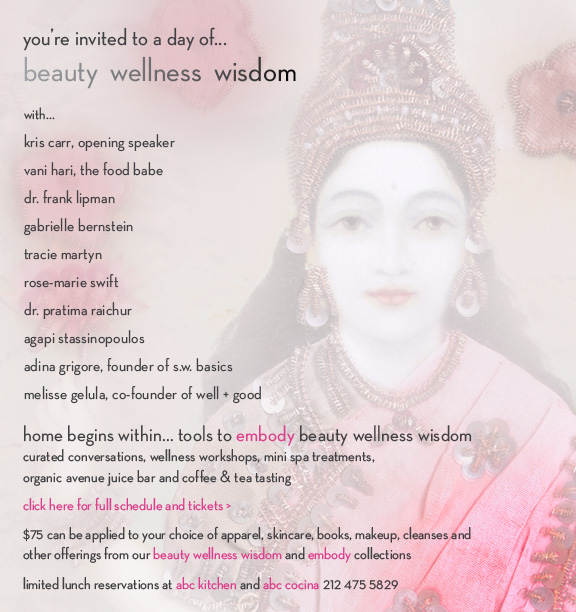 ABC Carpet & Home is hosting a day-long Beauty, Wellness, Wisdom event on Saturday, October 26 from 9:30am- 4pm. Featuring wellness workshops, luxe juice bar treats, mini massage sessions and mingling with like-minded folk and industry leaders, this is one jam-packed Saturday event you won't want to miss. S.W. Basics founder, Adina Grigore and RMS Beauty founder and renowned green makeup artist, Rose-Marie Swift are among the headliners speaking at the event.Tickets are $75 with a family-style lunch catered by ABC Kitchen & ABC Cocina at an additional cost. Check out the full event lineup and purchase your ticket here.
Is stress or the busyness of life making you feel tired and weak? Learn how to balance and restore your health amidst a busy lifestyle with the Wellness Salon Series hosted by NYC's top wellness experts, Kristen Arnett the founder of Green Beauty Team, Dr. Anthony Lyon of Eleven Eleven Wellness Center, and Elena Brower of Virayoga. This 3-part series discusses the different ways you can improve your overall health and mindset. Merging medicine, wellness and beauty, the 3 sessions are: Oct 8, 2013- Part I: How to Feel Your Best, Oct. 22- Part II: How to Look Your Best, Nov. 5- Part III: How to Best Sustain Your Health. Tickets are $35 and can be purchased here.
Join one of my new favorite green beauty brands, W3LL PEOPLE as they host their debut beauty event, Supernatural Sessions at Henri Bendel on Fifth Avenue on Thursday, November 7 from 5pm- 8pm. These sessions will bring together natural beauty experts to teach you all about being eco-chic. There will be, makeovers, hair-styling, skin-care treatments, some organic chocolate, bubbly and more! The event features W3LL People creative and color director, Shirley Pinkson, beauty guru and blogger, Elizabeth Dehn for One Love Organics skin care, hair genius and founder of Yarok Organic Haircare, Mordechai Alvow and Well + Good NYC co-founder and natural beauty expert, Melisse Gelula. Grab some of your friends and buy your tickets now as this special engagement is only limited to 50 guests. Tickets are $25 online and will be applied toward product purchase at the event.
So much to do, so little time! Are you planning on attending any of these events? I know I am!
Images from ABC Carpet & Home, Green Beauty Team and W3LL People.