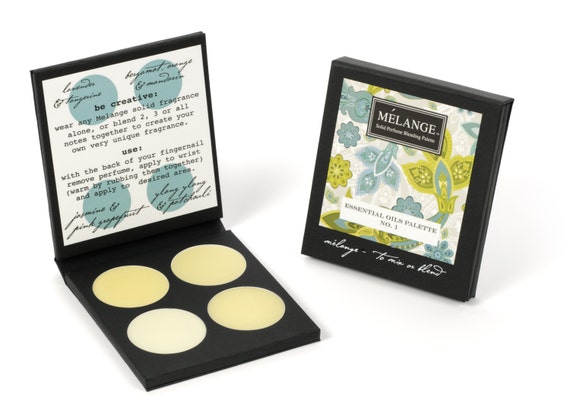 I'm still on the quest to find that perfect, natural fragrance to replace my old, more toxic perfumes. There have been many hits and misses (more on specifics soon) though sometimes, I've found that my current favorite scents come from solely patting on some aromatic essential oils as a healthier and longer-lasting alternative to perfume.
This product from natural perfume company, Mèlange Perfume definitely caught my eye as I was perusing the online green beauty goldmine, BeauTeaBar (I love stalking their Instagram feed too). For those who can't decide on a single fragrance (like me) or are holding out for an uber unique scent, the Mèlange Solid Perfume Blending Palette ($28) is for you. Inspired by an artist's palette, the Solid Perfume Blending Palette contains 4 pans of artisanally prepared, handcrafted solid perfumes to mix and match or wear alone. Each scent is blended with Mèlange Perfume's signature natural beeswax and jojoba oil base, are prepared in small quantities, and hand-poured in the Los Angeles studio. In French, the word "mèlange" translates to a mixture or blend of different elements.
Melange Perfumes were created by perfumer Denise Estrada & inspired by the popular fragrance bars and custom blending service at her previous Los Angeles retail stores, Melange Apothecary,155 South Apothecary and Essenza.
I discovered there are actually quite a few versions of this Palette on the Mèlange website (10 palettes total!) but the version available at BeauTeaBar is the Essential Oil Palette. This Palette features 4 lovely essential oil blends: Lavender + Tangerine, Bergamont, Orange, Mandarin, Jasmine + Pink Grapefruit, Ylang ylang + Patchouli. I love how these essential oil blends are pressed as solid perfumes (no spills to worry about!) and organized into a beautiful, travel-friendly palette with a vintage feel. The palette is magnetized for easy maneuvering and includes a simple blending guide if you're feeling less creative. I do prefer sprays over solid perfumes, but this palette would make a perfect travel companion and unique way to create customized scents. At $28 for a total .63 oz of fragrance, this may be a splurge but surely for a one of a kind product.
Guaranteed to provide multiple fragrance combinations not to mention endless amounts of fun, this palette just might be the ultimate solution to my natural perfume dilemma!
Take a peek at these cute Palettes below and all the drool-worthy, natural fragrance combinations HERE. Purchase it at BeauTeaBar or at Mèlange Perfume
Melange Solid Perfume Blending Palette contains four unique perfumes which can be worn alone or blended with others in the palette to create a custom fragrance blend. It's custom blending at your fingertips!  
What are your thoughts on this product? Are you a fan of solid perfumes?